SAGA TECHNOLOGIES' GRAPHIC DESIGN TEAM HELPS LOS ANGELES DCFS EARN 1 ST PLACE AWARD
DCFS Employee Newsletter Designed by Saga Team Honored by the California Association of Public Information Officials with 2005 Award of Excellence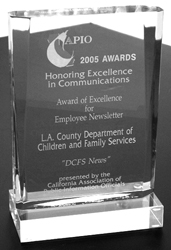 CERRITOS, CA, April 18, 2005 —Saga Technologies, a software development and IT consulting provider, proudly announced today that its client, the Los Angeles County Department of Children and Family Services (DCFS) earned a first place Award of Excellence from the California Association of Public Information Officials (CAPIO) for its employee newsletter. A close partner with DCFS on a number of IT-related projects, Saga Technologies offered its graphic design expertise to design an appealing format and layout for the Department's internal newsletter.
Although not technical in nature, this project was a natural extension for Saga Technologies. The team had already been working closely with DCFS on the development of a case management portal and a public website, both of which incorporated compelling, user-friendly graphic interfaces. Transforming the conceptual look and feel of the current projects onto a newsletter was a welcome tangent for the Saga team.
"We definitely share in the feeling of honor that DCFS was chosen for this award. It's rewarding to know that our design elements and their content were able to mesh so nicely to garner recognition by others in the field," said Jason Xue, Director of Saga Technologies. "One of our strengths has always been the ability to connect users with technology through aesthetically pleasing, user-friendly and intuitive graphic interfaces. This award validates that strong belief."
The CAPIO Award of Excellence recognizes outstanding public information programs and campaigns by government, nonprofit, educational and private agencies from throughout the state. Winners are determined by a panel of judges with broad expertise in communications, marketing and public relations.
About Saga Technologies Headquartered in Los Angeles, Saga Technologies provides software development and IT consulting services to companies andorganizations worldwide. Saga Technologies utilizes a unique approach that merges individual talent, global resources and advanced technology to provide quality, cost effective total solutions that empower each of its clients to realize unprecedented levels of productivity.